Sweet Burlesque - Afdansningsshow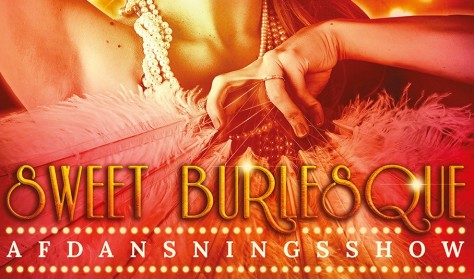 Med 2 tidligere udsolgte shows, er Sweet Burlesque endnu en gang klar til at indtage scenen til et brag af et show på Kulturhuset Viften i Rødovre - og du er inviteret!
Så sæt kryds i kalenderen Lørdag d. 4 maj 2019, når vi åbner dørene op for et forrygende danseshow fyldt med fjerrystende koreografier, letpåklædte divaer, glamorøse kostumer, lækker musik, glimmer og farverige sceneshows... Med andre ord: MASSER AF BURLESQUE!

Vi tager dig tilbage til 1920'ernes showbizz tilføjet et moderne twist og krydret med et strejf af rock' n' roll. Det bliver ikke kedeligt! Alle vores elever og professionelle showdansere glæder sig til at fyre op for en fantastisk aften med 2 timers top underholdning, du sent vil glemme.


Bestil din billet nu og glæd dig til et one-of-a-kind show med masser af dans, lækre cocktails og ikke mindst en aften, hvor Sweet Burlesque vil tage pusten fra dig og med garanti give dig lyst til at danse med, når alle vores Burlesque dansere, i alle niveauer, gør deres entré på scenen.
DØRENE ÅBNER KL. 19:15 OG LUKKER KL. 20!
_____________________________________________________
KØB BILLETTER NU
DØREN: 280 KR
_____________________________________________________
SWEET BURLESQUE SHOW TEAM
Oplev Københavns eneste professionelle Burlesque Showhold, der bl.a. har optrådt ved Northside festival, Burlesque Idol UK, CPH Jazz festival og mange flere steder. Gruppen har eksisteret siden 2011 og er kendt for deres energiske show fyldt med overraskelser, humor, fantastiskekostumer samt professionellekoreografier. Gå ikke glip af disse lækre Burlesque dansere, der er klar til at indtage scenen til Maj.
SWEET BURLESQUE DANSEHOLD
Sweet Burlesque tilbyder danseundervisning i Burlesque på alle niveauer. Vi har over 250 kvinder i alle aldre, der har det tilfælles:DE ELSKER BURLESQUE! Timerne er spækket med energi, teknik, udstråling og spændende dansekoreografier, hvor vi arbejder med at udvikle den enkelte elevs kropsbevidsthed, selvtillid, udstråling og meget mere gennem dans.
HISTORIEN BAG NAVNET
Burlesque genren startede oprindeligt i 1860'erne, hvor burlesque-shows var en kombination af satire, performance-art og vovet underholdning. Sidenhen er genren blevet kendt som løssluppen og handler om at bryde de sociale normer i vores samfund. Sweet Burlesque tager afsæt i denne tankegang, dog med en øget grad af finesse og elegance, der leder til en mere humoristisk og forførende version af Burlesque, deraf navnet Sweet Burlesque.
Læs mere om Sweet Burlesque her: www.sweetburlesque.dk
Video fra sidste års show.




English:

Once again Sweet Burlesque invites you to an outstanding show filled with glitter, dance, entertainment, satire and LOTS of BURLESQUE. Our students are ready to dazzle you on stage and invites you to an evening packed with stunning fan-dancing divas, sparkeling showgirls and tassel-adored twirles that will definitely ruffle some feathers. Sit back and take in the intoxicating avant-garde celebration of love, lust and glamour.

With 2 previously soldout shows we are ready to take the stage once again Saturday May 4, 2019 at Kulturhuset Viften in Rødovre. We take you back in time to the 1920's showbizz with a modern twist, where beautiful costumes, well-executed choreographies as well as colorful stage shows will adorn your evening and give you an unforgettable experience.
Order your tickets now and look forward to a show where the passion and momentum of Sweet Burlesque will take your breath away when all of our burlesque dancers at all levels make their entrance on stage.

Put an X in the calendar and look forward to a one-of-a-kind show with lots of Burlesque and great cocktails.

DOORS OPEN AT 19:15 AND CLOSE AT 20!

_____________________________________________________

BUY TICKETS NOW
DOORS: 280 DDK

______________________________________________________

SWEET BURLESQUE SHOW TEAM

Discover Copenhagen's one and only professional Burlesque Showteam, which has performed at the Northside festival, Burlesque Idol UK, CPH Jazz festival and many more places. The group has existed since 2011 and is known for their energetic show filled with surprises, humor, professional choreographies and fantastic costumes. Don't miss out on these delicious Burlesque sweethearts, who will entertain you on the stage.

SWEET BURLESQUE DANCE CLASSES

Sweet Burlesque offers dance lessons in Burlesque. We have over 250 women of all ages who all have one thing in common: THE LOVE FOR BURLESQUE! The classes are packed with energy, technique, charisma and dance choreographies, where we will challenge the individual student to improve their body awareness, self-confidence and much more through dancing.

THE HISTORY BEHIND THE NAME

The Burlesque genre originally started in the 1860s, where burlesque shows were a combination of satire, performance art and daring entertainment. Since then the genre has become known as satirical and is about breaking the social norms of our society. Sweet Burlesque is based on this mindset, though with an increased degree of finesse and elegance, which initiates a more humorous and seductive approach, hence the name Sweet Burlesque.

Read more about Sweet Burlesque here: www.sweetburlesque.dk